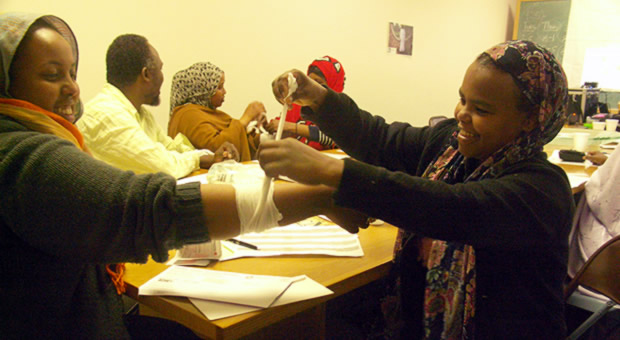 The programs at Horn of Africa aim at empowering African refugees in San Diego to become productive members of their new communities and achieve self-sufficiency while preserving and promoting their dignity. Our current programs include:

Health Access Initiative
In collaboration with SAY San Diego, we work with pregnant women and mothers of small children to enroll them into one of the existing health insurance programs such as MediCal or Healthy Families. Program follow-ups ensure ongoing program participation.

City Heights Business Development Program
Intensive workshops for aspiring and current East African business owners on how to obtain credit and access capital, how to start and expand a business, and how to market and advertise effectively. We collaborate closely with ACCION San Diego and International Rescue Committee.
Safari Market Business Incubator
An innovative economic development project managed by Horn of Africa, providing space and marketing externalities to budding East African entrepreneurs in San Diego in a bazaar-style environment. To date, the project has supported the development of over 55 small businesses and has created 125 jobs for East African refugees, most of whom are women.
Childcare Training Initiative
A comprehensive training program assisting refugee women through the process of obtaining a family day care license. Provides instruction in child development, health, nutrition and safety as well as business basics and record keeping. The program also includes full infant and adult CPR/First Aid and Childcare Health & Safety classes.

Refugee Case Management
Intensive one-on-one assistance for African refugees and refugee families in San Diego, assisting with access to mainstream services such as energy cost assistance programs, nutrition and food security program, job development and unemployment benefits.
Supporting Asylum Seekers Project
Individualized support for East Africans seeking asylum and those granted asylum in San Diego. Services include cultural orientation, resource support, and assistance with accessing available benefits and mainstream services.